Fort Worth Will Host International Art Exhibition of Attack on Titan at the Region's Most Anticipated Anime Fan Convention of 2021
November 22, 2021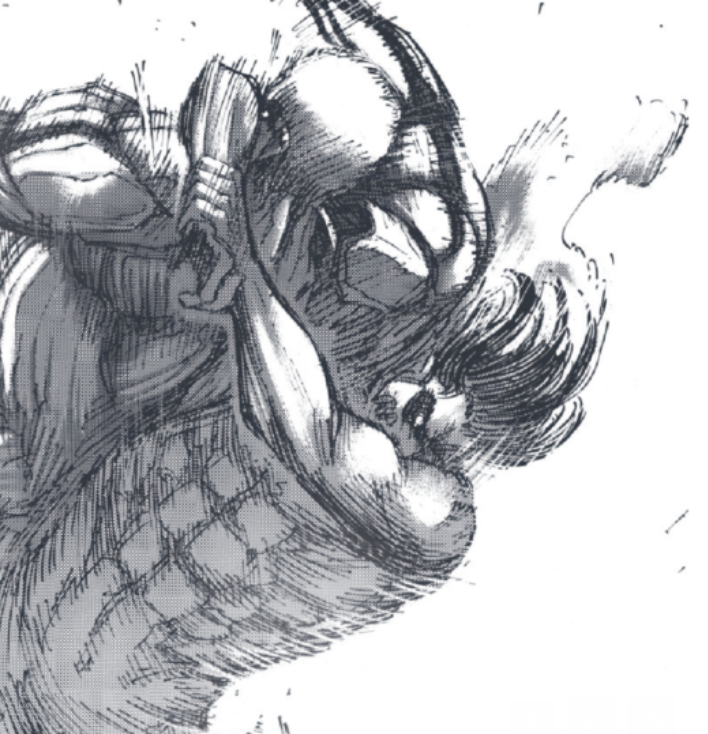 Fort Worth Will Host International Art Exhibition of Attack on Titan at the Region's Most Anticipated Fan Convention of 2021
Attack on Titan Publisher Select DFW for Rare Gallery Pop Up Featuring Art from Famed Japanese Artist Hajime Isayama at Anime Frontier this December
Fort Worth, TX (November 22, 2021) — Anime Frontier Powered By Crunchyroll announced today in coordination with Kodansha USA , a division of Japan's largest publishing company, the selection of Fort Worth as only one of two cities in the Nation to host a special collection exhibition of artwork in celebration of critically acclaimed manga and anime — Attack on Titan.
This spectacular body of work from series creator and artist Hajime Isayama represents the evolution of over a decade of fan-beloved, artistic storytelling. As one of the globe's biggest pop culture phenomenons, Attack on Titan is an award-winning and New York Times-best selling manga series beloved by generations in every country around the world. This colossal special exhibition will receive its U.S. debut in New York at LeftField Media's Anime NYC in November and then travel directly to Texas for its Southwest Regional Premiere. These two events will be the sole opportunity for fans in the U.S. to experience the remarkable exhibit.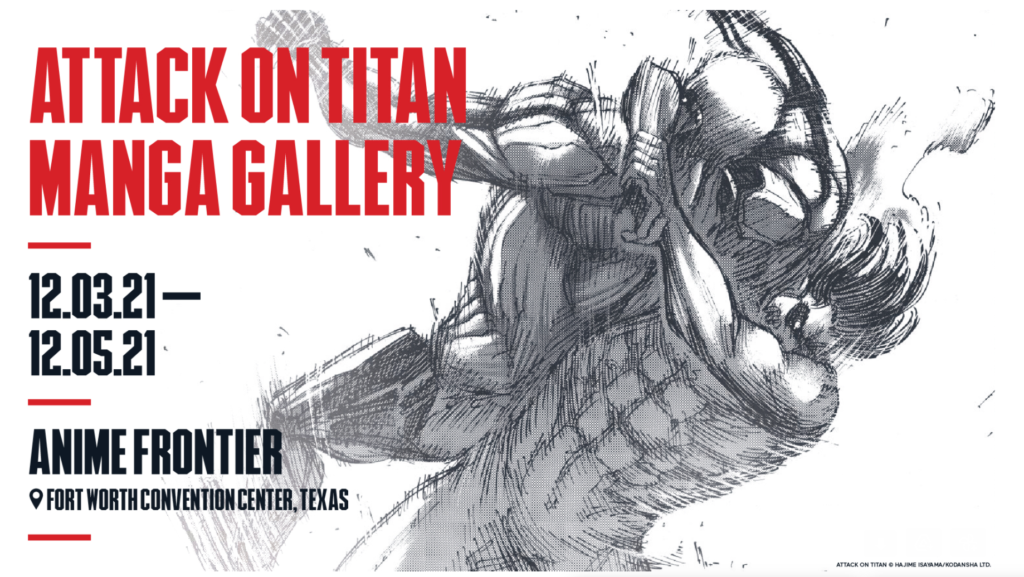 When asked about the importance and relevance of this exhibition at Anime Frontier, Show Director Peter Tatara said, "Attack on Titan is one of the biggest manga series of the 21st century, and its ending is a tremendous moment for Japanese popular culture overall. We're honored and humbled to be able to share this moment with fans in North Texas, linking audiences in DFW with Japan for a remarkable celebration of Attack on Titan's evolution, popularity, and legacy."
The Attack on Titan Manga Gallery comes at a very special time in the life of the series. Considered to be one of the best-selling manga of all time, this exhibition celebrates the conclusion of the 11 year saga, and is positioned between the finale of the manga, which debuted earlier this year, and the final season of the anime series, set to arrive in January 2022. Fans of the manga, anime, and the creator himself will have the rare and extraordinary opportunity to step into the mind of one of Japan's most celebrated artists and be transported into the thrilling world of fantasy set in 900 square feet in the center of Anime Frontier's expo floor.
"We're very excited to bring the Attack on Titan Manga Gallery to Texas", said Kodansha USA Events Director, Misaki Kido. "Rarely do fans in Texas get to take part in experiences like this, and it's important for us to share this celebration with you, too. Texas is known for having a huge anime and manga community, and we want to recognize it by showcasing this testament to Attack on Titan's meaning with fans around the world with fans at Anime Frontier."
In addition to the curated work, The Attack on Titan Manga Gallery will feature a special fan generated element to celebrate and spotlight the millions of fans who have made the series successful. Through the creation of a special #ThanksAttackonTitan Gallery Landing Page, the gallery creators are amassing a collection of special messages that will be integrated into the exhibition. Fans can tag videos, pictures, and posts across all popular social media platforms with the hashtag #ThanksAttackonTitan for a chance to have their message included in the show.
Anime Frontier is designed to create an anime experience like nothing seen before in Texas. Through an intentional curation of fan driven experiences and one-of-a-kind premiers and experiences, the first annual anime convention will be the can't miss event of the season for Japanese pop culture and entertainment enthusiasts.
For more information about Anime Frontier Powered By Crunchyroll or to set up an interview, please email Holland Sanders at Holland@hollandcollective.co.
ANIME FRONTIER AT-A-GLANCE
Anime Frontier 3 Day tickets are available now for $45 at AnimeFrontier.com, and fans looking to learn more can sign up for the Anime Frontier newsletter and follow the event on Social Media. Anime Frontier is from the makers of Anime NYC. The second-largest anime convention in the USA, Anime NYC brings over 50,000 fans together each November in New York City.
Details:
December 3-5, 2021
Fort Worth Convention Center
1201 Houston St
Fort Worth, TX 76102
Event:
FRIDAY, DECEMBER 3RD:

10 AM – Registration Opens
1 PM to 7 PM – Exhibit Hall
1 PM to 10 PM – Panels & Events
SATURDAY, DECEMBER 4TH:

8 AM – Registration Open
10 AM to 7 PM – Exhibit Hall
10 AM to 10 PM – Panels & Events

SUNDAY, DECEMBER 5TH:

8 AM – Registration Open
10 AM to 4 PM – Exhibit Hall
10 AM to 4 PM – Panels & Event
Tickets:
Three Day Tickets $45
Friday Ticket $30
Saturday Ticket $40
Sunday Ticket $30
All Tickets Available at: animefrontier.com/tickets/
About Anime Frontier Powered By Crunchyroll:
Set in Fort Worth, TX, a city that blends cosmopolitan energy and cowboy culture, Anime Frontier Powered By Crunchyroll brings together the best of the US and Japan for a showcase of what's next in Japanese entertainment. Featuring some of the biggest guests in anime and manga and leading publishers in their first appearances in Texas, Anime Frontier is three days of exciting exhibits, exclusive premieres, and show-stopping special events. Join us for a convention unlike any other in Texas! For more, visit animefrontier.com.
About Attack on Titan:
Attack on Titan is the award-winning and New York Times-bestselling series created by Hajime Isayama. First published in Bessatsu Shōnen Magazine in 2009, this series was a sleeper hit until it won the Kodansha Manga Award in 2011 for the shōnen category. Since then the manga has spawned the monster hit anime TV series of the same name making Attack on Titan a pop culture sensation. The anime is currently in its final season and can be streamed via Crunchyroll and Funimation. New episodes of the final season arrive in January 2022.