VLK Architects anchor Near Southside Project 'The 701' Breaks Ground at Hemphill & Magnolia
March 1, 2021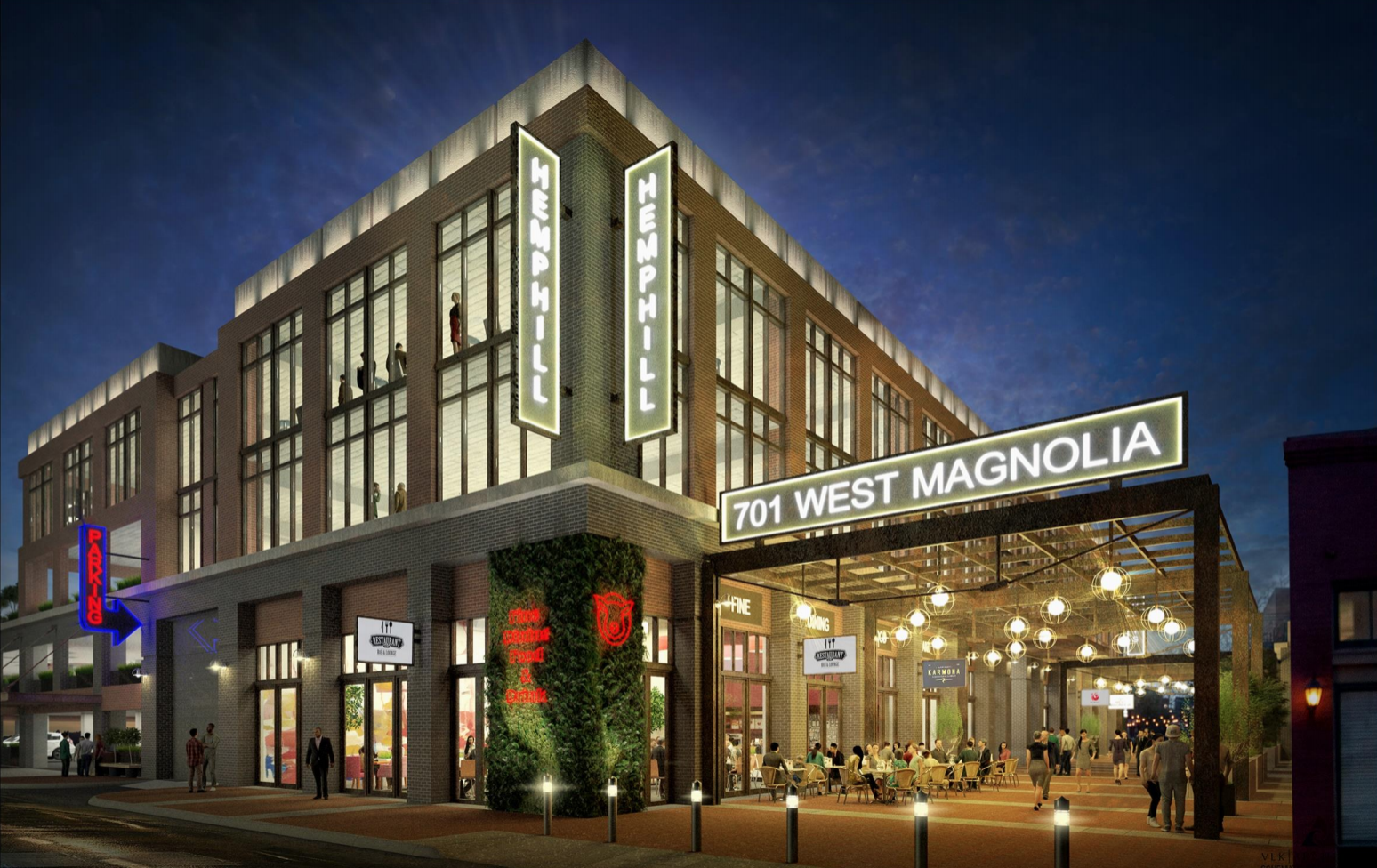 VLK Architects anchor Near Southside Project 'The 701' Breaks Ground at Hemphill & Magnolia
Dodson Commercial Real Estate To Bring Exciting New Opportunities For the Businesses and Residents of Near Southside with New Mixed-Use Development Project
FORT WORTH, Texas (March 1, 2021) — Dodson Commercial Real Estate announced today its plans to officially break ground on 'The 701' (a 68,000 sf, mixed-use development in the Near Southside on the corner of Hemphill Street and W. Magnolia Avenue) in a special ceremony Thursday, March 4, 2021 at 10:30 am. The project includes the existing two-story historic building home to Shinjuku Station and Panther City Salon, a new 3,700 square foot restaurant building fronting onto West Magnolia, and a new three-story office and retail building anchored by one of Texas's largest and most renowned architecture firms, VLK Architects.
VLK will occupy the entire top floor consisting of approximately 26,000 sf. The building includes a ground-floor restaurant and retail spaces and a second story designed to house offices or medical tenants.
The project, anticipated for completion in early 2022, features a vibrant pedestrian plaza with shop spaces and patios, which will connect the three buildings to a new on-site 200 car parking garage. This major Fort Worth project is the first undertaking by DFW developers Ryan Dodson and Alex Bryant under the newly formed partnership of Dodson Commercial Real Estate (formerly Dodson Development).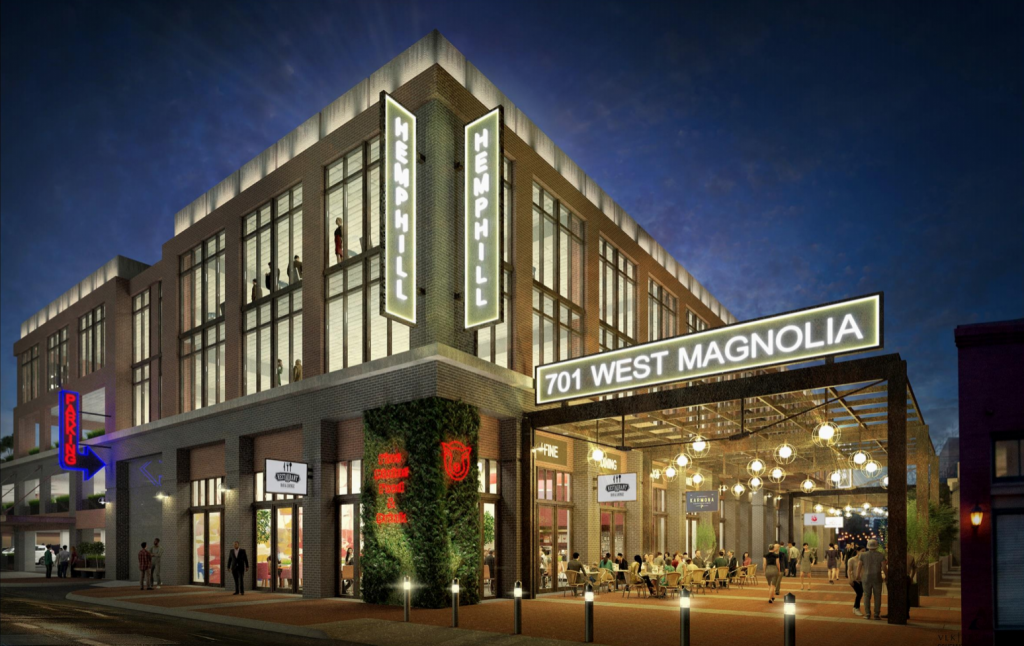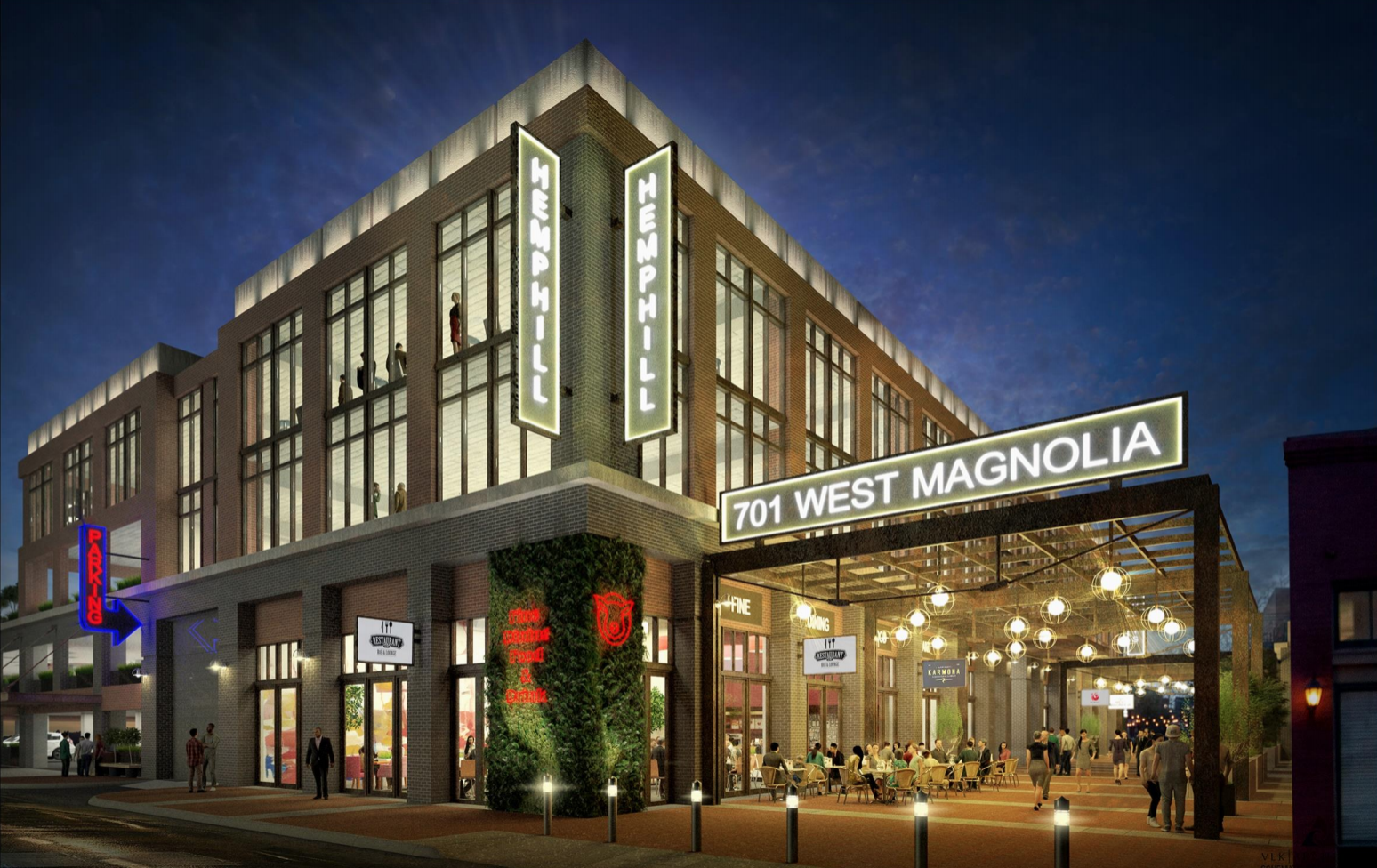 When asked about this monumental project, Dodson Commercial Real Estate Managing Partner Ryan Dodson said, "The 701 is the first of its kind Class A mixed-use project on the vibrant West Magnolia corridor. We realize the significance of this opportunity and have worked carefully with the Near Southside and the VLK team to thoughtfully integrate modern office, retail, restaurant, and structured parking with the charm and character of the historic buildings in the area. It's a truly collaborative project that will bring over 100 high-paying jobs to the area while continuing to build on the walkability and character of the Near Southside."
Brokered amidst the Covid-19 pandemic, the closing of this complicated deal is a massive win for the newly formed partnership. 'The 701' serves as the hallmark project launching the new full-service Dodson Commercial Real Estate, which now includes real estate development, property management, investment, and brokerage services.
President of Brokerage Alex Bryant added, "The 701 is a catalyst project for Dodson and our expanding platform. We are thrilled to partner with a firm of VLK's caliber on such a landmark endeavor."
'The 701' development footprint is a unique combination comprising the acquisition of an existing structure combined with the new construction designed to house urban office, restaurant, and retail space connected by the outdoor pedestrian mall. Dodson Commercial Real Estate will maintain the landmark cornerstone building of 701 W. Magnolia and its tenants through the expansion and use its design and historical impact to influence the new development. Originally built in the 1920s, it will retain all the community's favorite businesses, restaurants, and residential lofts.
President of the Near Southside Mike Brennan said, "We're really excited about the project and what it delivers to our community on multiple fronts: sensitive preservation of those treasured historic buildings; new distinctive landmark buildings that complement their older neighbors; the central public plaza activated by local shops; and an extension of Magnolia's energy around the corner to that key section of Hemphill."
The success of this project is due in large part to the partnership with VLK Architects. The company has five offices across the state but will make 'The 701' its official headquarters. The architecture firm will occupy the entire 26,000 sf 3rd floor of the new three-story building. Previously on West 7th, the firm's move to the Near Southside will be an exciting addition to the growing community.
This project will serve as a significant addition to the heart of the Near Southside. The additional parking garage adds critically important parking assets to the growing neighborhood and the pedestrian walkway will add connectivity to Magnolia's busy corner; the 701 will bring a fresh new way to work, dine, and shop.
Dodson Commercial Real Estate, VLK Architects, and Near Southside will celebrate the project's official launch with a special groundbreaking ceremony on March 4th at 10:30 am. Special guests, members of the press, and community friends are invited to attend!
For more information or to set up interviews with Dodson Commercial Real Estate, contact Holland Sanders at holland@hollandcollective.co.
---
The 701 At A Glance
Project Overview:
Address:

701 Magnolia Avenue Fort Worth, Tx 76104
Historic 701 W. Magnolia is home to:

Shinjuku Station Sushi, Panther City Salon, Pytchblack Marketing, and others

The new VLK Building:

52,000 sf mixed-use building

Floor 1: 2 Retail & Restaurant
Floor 2: Office & Medical Office Space
Floor 3: VLK Architects HQ

200 space structured parking garage
Estimated delivery in early 2022

The new Restaurant building:

3,700 sf 2-story building with 1,800 sf patio
Located on the vacant lot between Grandma's & Brewed
Available for lease
200 space structured parking garage
Estimated delivery in early 2022

For Leasing Information:

Alex Bryant – alex@dodsondevelopment.com
ABOUT RYAN DODSON:
Ryan Dodson serves as President of Development and managing partner of Dodson Management, Inc. (DMI), a role he has held since beginning his real estate career.  Ryan started his career in sales in 1999, but the commercial real estate business called in 2002 when he decided to continue the family tradition of real estate development. Since 2002, Ryan has participated in hundreds of millions of dollars' worth of acquisitions, developments, and dispositions. 
DMI has a long-term investment strategy and prefers to hold quality assets rather than sell.  Ryan's roles at DMI include project feasibility, entitlement, acquisitions, development management, and project capitalization. Ryan is a graduate of the University of Oklahoma (1999), past Chair of Downtown Arlington Management Inc, served eight years on the City of Mansfield Planning & Zoning commission, two years as Vice Chairman, and has recently joined the North Texas chapter of the Urban Land Institutes small scale development product council.  Ryan lives in Fort Worth with his wife Jessica and their three children.
ABOUT ALEX BRYANT:
Alex Bryant is President of Brokerage for Dodson and brings years of professional commercial real estate brokerage experience to the company.  Alex was previously founding partner of Bryant Commercial, where he oversaw brokerage, development, and acquisition activities for the company.  Prior to founding Bryant Commercial, Alex served as Vice President at Transwestern, where he focused on corporate user representation, structured finance transactions, and development and was consistently recognized as a "top producer." 
Prior to joining Transwestern Alex was a top producer with Grubb & Ellis.  He has completed in excess of $400 million in real estate transactions during his career. He is a past member of the Houston Office Leasing Brokers Association ("HOLBA") and the Downtown Houston Alliance.  He currently serves on the Board of Directors for LinkEd and is a past recipient of the Fort Worth Business Press's prestigious 40 under 40 award. Mr. Bryant received his BBA in Finance from the Mays Business School at Texas A&M University in College Station, Texas.
ABOUT DODSON COMMERCIAL REAL ESTATE:
Dodson is a full-service commercial real estate firm based in Arlington, TX, managed by Ryan Dodson, Jerry Dodson, and Alex Bryant. Dodson is an active investor, developer, manager, and broker of commercial real estate in the North Texas area. Focusing on quality over quantity, Dodson works with owners and users to implement value-add strategies through market knowledge and experience.
Dodson.
Move your business; forward.