Wesleyan University's Legacy Project Breaks Ground on East Rosedale Corridor This Month
July 1, 2021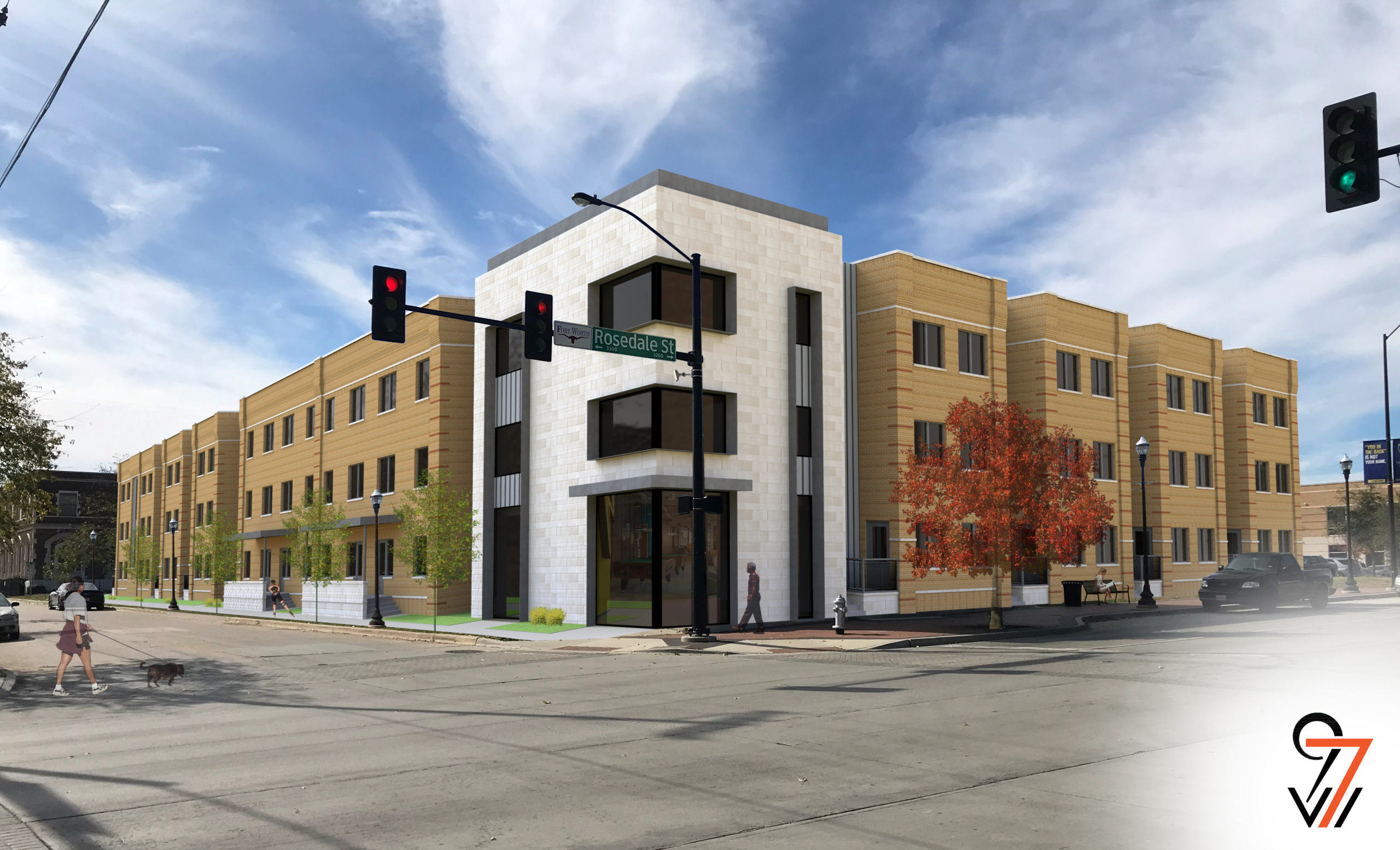 Legacy Project Breaks Ground on East Rosedale Corridor This Month
'The Rosedale' Will Contribute to the Renaissance of East Fort Worth and Provide Texas Wesleyan Students with a Modern Living Community for Years to Come
---
FORT WORTH, Texas (July 1, 2021) — Texas Wesleyan University, in partnership with Panteras Development Partners and Miyama USA Texas, announced today plans to officially break ground on 'The Rosedale' — a sophisticated, 48,721 SF student residential apartment building on the corner of East Rosedale and Collard on July 20, 2021, at 10 a.m. The exciting legacy project features a three-story building with one and two-bedroom apartments, private-secured parking, and numerous other exciting amenities designed with the Texas Wesleyan student and beloved faculty and staff in mind. The project will serve more than 100 students and is a $10.5 million investment in the East side of Fort Worth. The endeavor is in line with the efforts to revitalize the area through The Rosedale Renaissance, a $22 million project spearheaded by Texas Wesleyan, the City of Fort Worth, and Tarrant County for the campus and the Polytechnic neighborhood.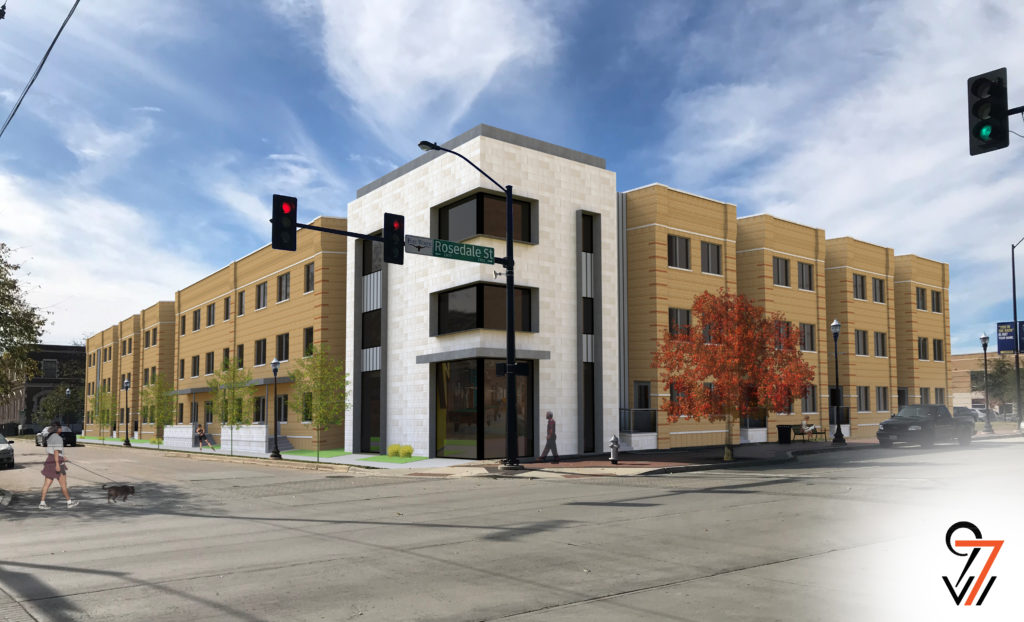 The Rosedale, anticipated for completion on July 1, 2022, is designed with high-end details and modern amenities to fit the student lifestyle. This includes a lounge with large-screen televisions, a weight room, a gym, study rooms, a conference room, and a rooftop patio, plus an onsite, gate-secured parking lot with 101 available spots.
When asked about this addition to East Fort Worth and what this will mean for campus life at Texas Wesleyan, University President Fred Slabach said, "The addition of The Rosedale, steps from the heart of the Texas Wesleyan campus, is the latest example of the commitment we've made to immerse our students in the community we've called home since 1890. A key component of our new Engage 2025 strategic plan is enhancing diversity, inclusion, student life, civic responsibility, and economic opportunity empowering our students' success while revitalizing our campus and neighborhood. The Rosedale fulfills that vision by allowing our students to learn, work and live within our East Fort Worth neighborhood, enabling them to plant long-lasting roots and build strong relationships that our community will benefit from for generations to come."
A considerable amount of time and intentional effort has gone into crafting a housing solution best suited for the neighborhood and the university's current and future students. Owner and operator Miyama USA Texas and student housing developer Pantera Development Partners have taken an innovative approach to the project by working closely with the University's Division of Student Affairs who hosted two meetings last year with graduates, undergraduates, and staff to hear the voices of the people who would be most affected by this project. The development team has continued to share progress and updates with the students and staff.
"The Rosedale project has been a true collaboration between Texas Wesleyan and our development teams. We believe that the investment in the campus and prioritizing their needs for the space will ensure that it becomes a vital part of the university for the students and facility for years to come," Alex Bryant, co-founder, and Managing Partner of Panteras Development Partners, said about working with Texas Wesleyan.
Miyama USA Texas has a long history of investing in communities across DFW. They bring years of experience working with leading-edge student housing, developing housing for the University of North Texas in Denton in the 1990s. Their unique approach ushered growth for the growing school. The team at Miyama USA Texas is making a long-term investment in Texas Wesleyan, choosing to stay on and manage it rather than build and sell. This unique approach will help ensure the project is successful and can evolve in the years to come.
"Our investment approach has been to always hold the assets for a long term and manage our own assets so that we can hear voices of our residents directly and continue to improve our service," said Sawako Miyama, President/COO Miyama USA Texas.
She continued, "We especially look at the Rosedale project as a long-term partnership with Texas Wesleyan University, so it is vital for the success of this project to root ourselves more deeply in this community so that we can contribute to the future growth of the University."
Texas Wesleyan, Miyama USA, Texas, and Panteras Development Partners will celebrate the project's official launch with a special groundbreaking ceremony on July 20, 2021, at 10 am.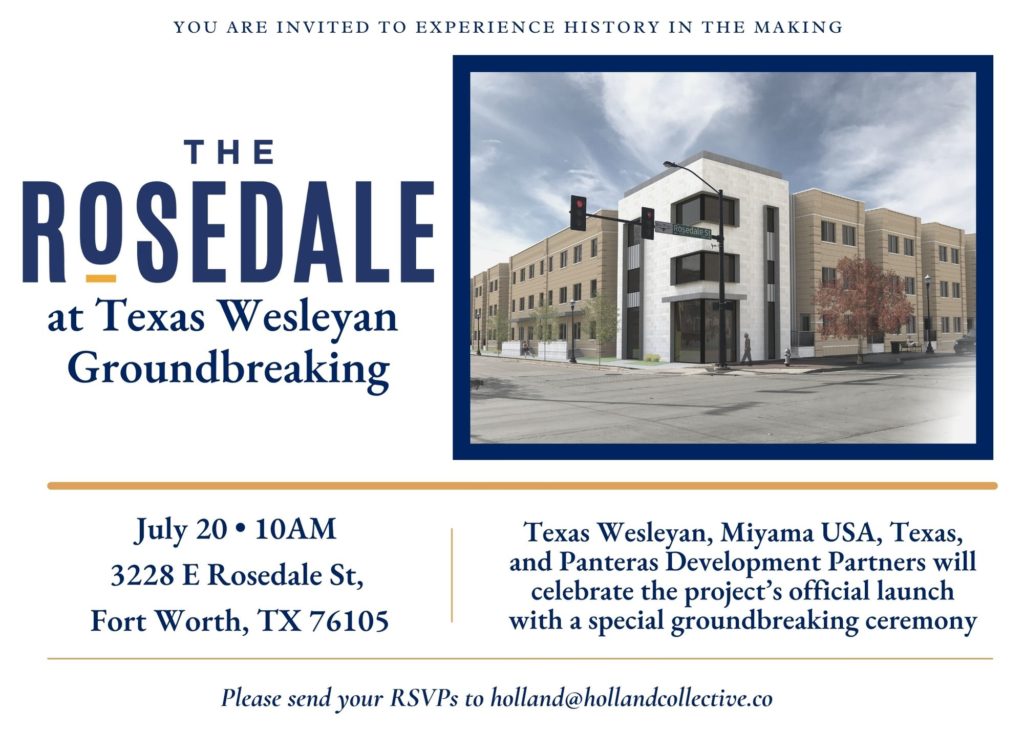 For more information or to set up interviews with Miyama USA Texas or Texas Wesleyan, contact Holland Sanders at holland@hollandcollective.co. 
---
The Rosedale At A Glance
Project Overview: 
Address: 
3228 E Rosedale St, 
Fort Worth, TX 76105
Building Info:
48,721 Gross S.F.
59 Units Total (18 – 1 Bedroom & 41 – 2 Bedroom Units)
Amenity List: 

Lounge
Gym/Weight room
Study Lab
Conference Room
Rooftop Patio
Package Locker
On-site Parking with Covered Parking Available
On-Site Storage Room

Parking Count and Rates:
101 Parking Spaces Provided
Estimated Delivery by:
July 1, 2022
---
ABOUT MIYAMA USA TEXAS
Miyama USA Texas is based in Dallas and is owned by the Miyama Family originally from Japan with over 400 years history. The company's focus is to invest in and develop high-end student housing projects serving private universities in Texas.
ABOUT PANTERAS DEVELOPMENT PARTNERS
Panteras Development is a Fort Worth-based real estate firm that offers student housing, development, acquisition, and consulting services. The company works to create winning partnerships between colleges, universities, investors, and owners.
ABOUT TEXAS WESLEYAN
Since 1890, Texas Wesleyan University has been serving the DFW metroplex as the home for a top-tier education. Offering more than 30 majors and more than a dozen graduate programs, with intentionally small classes taught by expert faculty, Texas Wesleyan students are training to be the next generation of movers and shakers in their fields. It's the definition of "Smaller. Smarter."
---