International Renowned Artists Weave Art, Collaboration, and Community in 100-Year-Old Historic Fort Worth Home called Kinfolk House
October 15, 2021

International Renowned Artists Weave Art, Collaboration, and Community in 100-Year-Old Historic Fort Worth Home called Kinfolk House
The Latest Project by Sedrick and Letitia Huckaby Comes to Life — Seeking to Create a Patchwork of Humanity and Creativity in the Polytechnic Neighborhood
---
Fort Worth, TX (October 15, 2021) — Internationally celebrated artists Sedrick and Letitia Huckaby announce today the soft launch of their latest creative endeavor — Kinfolk House, a collaborative project space inhabiting a 100-year-old historic home in the heart of the Polytechnic neighborhood. The Huckaby's envision this space as a place where community and art converge to uplift the beauty and culture in this vibrant neighborhood.
Through partnerships with community-minded creatives and project-based artists, this non-traditional space will paint outside the lines — opening up guests to many different creative forms and exploring the intersections of life, cultural pursuits, and artistry. Beyond artistic purposes, Kinfolk will also focus on educational programming, seeking to cultivate informal learning practices that pass on insight, wisdom, and skill, creating a long-lasting effect on visitors. At the intersection of community space and art gallery, milestone events and projects undertaken at Kinfolk House will go beyond art "exhibits"; instead, the space will prioritize creative projects that leave room for collaboration and seek creativity outside preconceived notions of art.

The home sits on 1.5 acres of land in the predominantly Black and Latine neighborhood of Polytechnic — a historically underserved community. This fall, the collaborative project space will soft-launch with small neighborhood and community-focused events. Kinfolk House will devote the fall to creating connections and relationships with residents and community members — aiming to share the vision of the space. Beyond connection, Kinfolk House intends to truly listen to the voices of Poly residents, taking into account their needs and wants — seeking personal investment from the people Kinfolk aims to serve.
When asked what Kinfolk House will bring to the neighborhood Letitia Huckaby, Co-founder of Kinfolk House, said, "I hope Kinfolk House will be an artistic light that the community will be proud to have."
Sedrick and Letitia are thrilled to begin opening the doors of this historic home that has resided within Sedrick's family for generations. The collaborative space is reimagined on the cornerstone of the creative power of Sedrick's grandmother and former homeowner, Hallie Beatrice Carpenter, known to her friends, neighbors, and family as "Big Momma." The Matriarch's legacy is infused into every aspect of the space, most notably the conviction that creativity exists in many vastly different forms.
Big Momma was a creative force in the lives of all who knew her. Although she wasn't a traditional artist, she possessed a creative spirit that forged unlikely friendships and bridged interpersonal friction. After her passing in 2008, the house remained in the family. However, in 2010 Sedrick decided to purchase the home from his family. This choice became the catalyst for the idea of Kinfolk House — a welcoming space to interrogate, explore, and expand the meaning of art in the heart of Fort Worth.
When asked about the creative legacy Big Momma left behind, Sedrick Huckaby, Co-founder of Kinfolk House, said, "She had the most amazing ability to create an environment that everyone, no matter how different they were, felt welcomed to and at home. I hope Kinfolk house can do the same."
Kinfolk House is a genuine act of love on behalf of Sedrick and exists as an homage and reinvestment back into the community which invested in him. From the Polytechnic neighborhood to the artistic community of Fort Worth to friends, family, and mentors that helped Sedrick from a young age and created a stage for his talents to shine. The Huckaby's intend to build a place with wide-open doors, welcoming all who seek to experience, learn, and infuse their lives with creativity. The collaborative space will celebrate design, culture, fashion, alternative forms of art, and many other creative endeavors in ways that nourish the community and create first-hand connections to creative pursuits.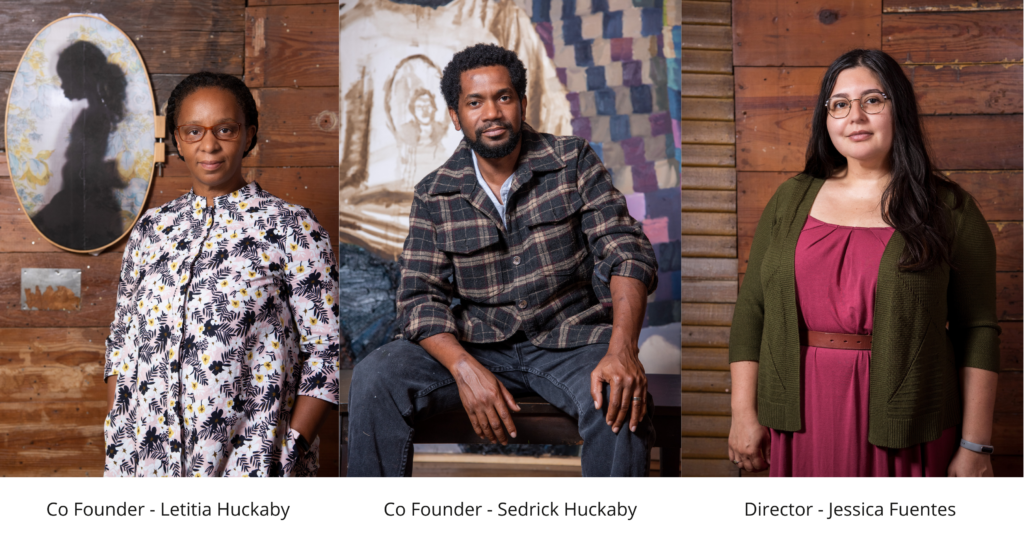 The Huckaby's have appointed Jessica Fuentes as Director of Kinfolk House due to her background as an artist, arts administrator, and educator. Beyond that, she brings values and insights they hope will be reflected at Kinfolk House. Formerly Jessica was the Manager of School & Community Outreach for the Amon Carter Museum of American Art. She'll bring her over 15 years of experience as an artist, educator, and community advocate.
A former member of the F6 Gallery Collective and 500x Gallery, she's worked at the Dallas Museum of Art as Manager of Gallery Interpretation. She serves on the board of Make Art with Purpose (MAP), Artes de la Rosa, and the Education Planning Committee for the Smithsonian Latino Center in Washington, D.C., among others. Her history will prove vital for the collaborative space to create robust and inspirational educational programming.
When asked about the opportunity and what she hopes to bring to the collaborative space, Director of Kinfolk House Jessica Fuentes said, "It is rare to have the opportunity to help build a space from the ground up that truly aligns with your personal vision and goals. Throughout my time in museum education, I have worked to create accessible and relevant exhibitions, self-guided learning experiences, and programs. Kinfolk House will be a place that supports artists, celebrates community, is informed by and invested in the local neighborhood, and inspires creativity, dialogue, and reflection."
Kinfolk House is thrilled to begin welcoming the neighborhood and greater community into the space. The collaborative project space will invite all who visit to become part of the legacy Big Momma left behind, and the Huckaby's continue to foster, creating kinfolk of all who walk through the door.
More announcements are coming soon; the space will host its grand opening with a mixed-media project in February 2022 — a collaboration between founders Sedrick and Letitia focused on the concepts of family, community, and heritage.
For more information about Kinfolk House or to set up an interview with Sedrick and Letitia Huckaby, please email Holland Sanders at Holland@hollandcollective.co.
---
KINFOLK AT-A-GLANCE
WEBSITE: www.Kinfolkhouse.org
SOCIAL CHANNELS: Facebook @KinfolkHouseFW | Instagram @kinfolkhouse_fw
ABOUT KINFOLK HOUSE
Kinfolk House is a collaborative project space that inhabits a 100-year-old historic home, where community and art converge in the predominantly Black and Latina/e/o neighborhood of Polytechnic in Fort Worth, Texas. Our goal is to uplift the beauty, talent, and culture in Polytechnic and feed its creativity by offering collaborative exhibitions, events, and educational opportunities of various disciplines. Through partnerships with community-minded creatives and project-based artists, we will build outside the preconceived ideas of "what art is," exploring the intersections of life, cultural pursuits, and artistry.
Sedrick and Letitia Huckaby opened the doors of this historic space reimagined on the cornerstone of the creative power of Sedrick's grandmother and original homeowner, Hallie Beatrice Carpenter, known to her friends and neighbors as "Big Momma." Her legacy inspires our understanding that creative pursuits exist beyond high art and academia.
Kinfolk House is a space built upon our inherited cultural knowledge and the richness of the Black American tradition passed down across nations, oceans, and generations. We're woven together through individual threads of history that convey our very identity, emanating from Big Momma's legacy, to Letitia's ancestral homeland of Greenwood, Louisiana, Dr. McAnthony's dream of creating something in a historically marginalized neighborhood so great that people from all over are drawn to it, to the improvisational intuition and fluid orchestration of quilt-makers in Gee's Bend, and the many other artists, activists, doers, and thinkers who inspire us.
The term kinfolk speaks to family ties forged by blood. At Kinfolk House, all who walk through the doors become a thread in our family. Our desire is that each connection will craft a human patchwork of creativity, power, and culture, ensuring the Kinfolk legacy lives on for generations to come.
ABOUT SEDRICK AND LETITIA HUCKABY
Sedrick and Letitia Huckaby are each prominent artists in their own right. Sedrick, a Fort Worth native, is a graduate of Texas Wesleyan University. He studied under Ron Tomlinson and Jack Barnett, later transferring to Boston University (BFA, 1997). And, received an MFA from Yale University — there, he immersed himself in the notion that "art is about ideas" and expanded his conceptual horizons in art and art history.
Sedrick has received numerous prestigious awards, including a Guggenheim award, Joan Mitchell Foundation Grant, American Academy of Arts and Letters Award, and a Lewis Comfort Tiffany Award. He was named the Texas State Artist for 2018 and was a finalist in the 2019 Outwin Boochever Competition Exhibition administered by the Smithsonian National Portrait Gallery. Currently, he's represented by Philip Martin Gallery in Los Angeles, CA, and Talley Dunn Gallery in Dallas, TX.
Letitia Huckaby investigates the relationship between past and present and whether things have changed or remained the same. Her work is rooted in faith, family, and legacy — acting as a time capsule for the African-American experience. History is built into her work, both through process and physical materials. Letitia holds an MFA in Photography from the University of North Texas (2010), a BFA in Photography from the University of Boston at Lesley (2001), and a BA in Journalism from the University of Oklahoma at Norman (1994).
Letitia has exhibited at Phillips New York, the Tyler Museum of Art, The Studio School of Harlem, Renaissance Fine Art in Harlem curated by Deborah Willis, Ph.D., The McKenna Museum in New Orleans, the Camden Palace Hotel in Cork City, Ireland, and the Texas Biennial at Blue Star Contemporary Art Museum.
Her work is included in several prestigious collections; the Library of Congress, the McNay Art Museum, the Art Museum of Southeast Texas, the Brandywine Workshop in Philadelphia, and the Samella Lewis Contemporary Art Collection at Scripps College in Claremont, California. Huckaby was a featured artist in MAP2020: The Further We Roll, The More We Gain at the Amon Carter Museum of American Art, and State of the Art 2020 at The Momentary and Crystal Bridges Museum; both opened in the spring of 2020.
Sedrick and Letitia Huckaby have created a home in Fort Worth, Texas, and are the proud parents of Rising Sun, Halle Lujah, and Rhema Rain.
###