2022 Fort Worth Food + Wine Festival Announces Mouthwatering Culinary Lineup Spotlighting the Best and Brightest in Fort Worth Food and Wine
February 22, 2022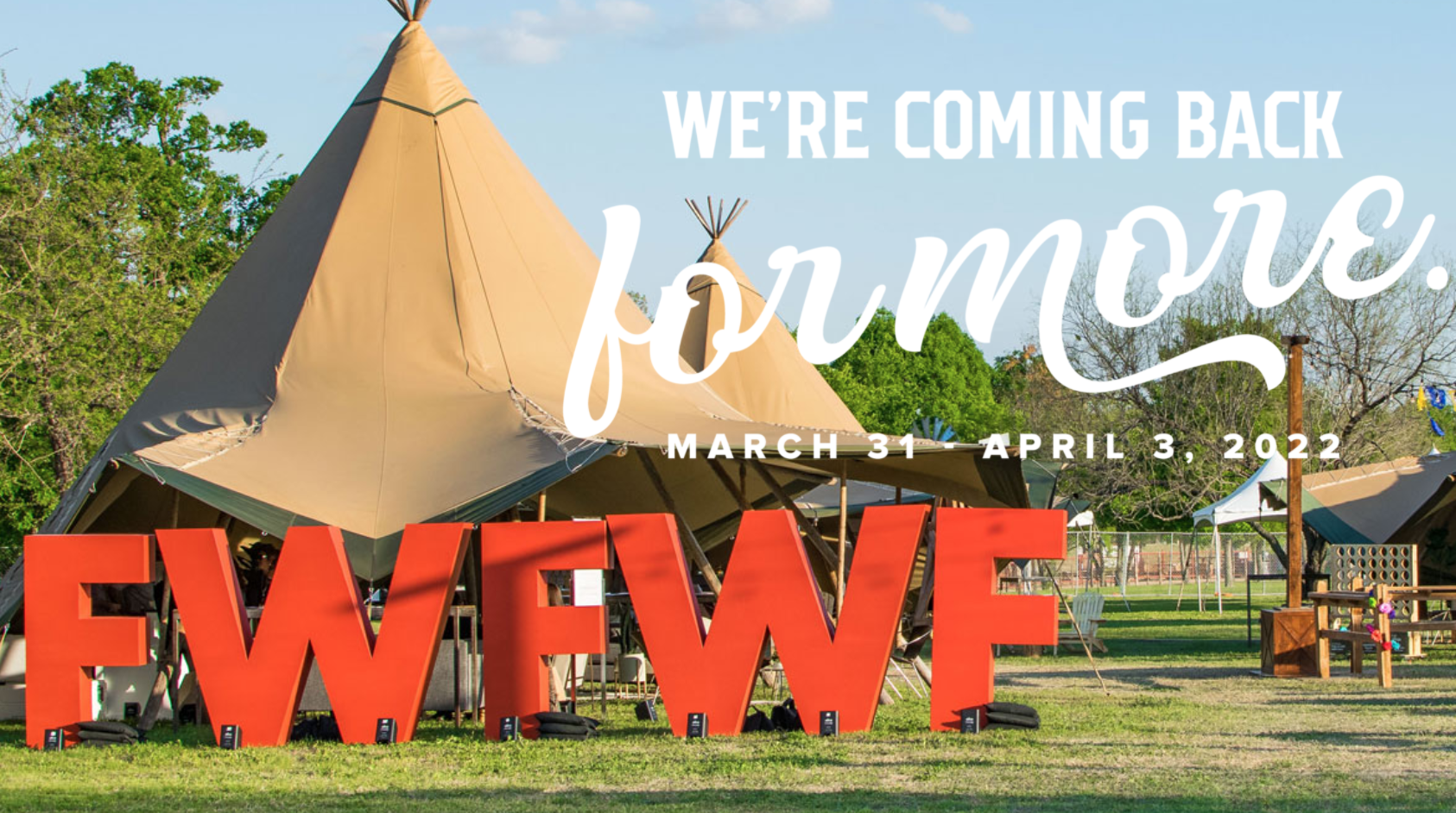 2022 Fort Worth Food + Wine Festival Announces Mouthwatering Culinary Lineup Spotlighting the Best and Brightest in Fort Worth Food and Wine  
From Top Names in BBQ to Emerging New Talent and Exciting Partnerships, this Year's Festival Can't be Missed
---
Dallas/Fort Worth, TX (February 22, 2022) — The Fort Worth Food + Wine Foundation is thrilled to announce the culinary talent joining the 2022 Fort Worth Food + Wine Festival this year (March 31 – April 3, 2022). After a two-year hiatus, the chef community is ready to come together and wow foodies across North Texas through six signature events: Tacos + Tequila, The Main Event, Nite Bites, Culinary Corral, Burgers, Blues + Brews, Ring of Fire, plus an exclusive culinary partnership between James Beard Award-Winning Chef Chris Shepherd and Funkytown talent Chef Tuan Pham.
DFW gourmands will experience returning chefs featuring bold flavors and seasoned talent. Beyond the tried and true, the festival will bring incredible rising stars that have emerged over the past two years. In addition, the 2022 culinary celebration will host; phenomenal new activations including the "Pitt Boss" himself, Matt Pittman of Meat Church will team up with BBQ masters fresh off Texas Monthly's Top 50 BBQ List. This chef lineup is filled with restaurants and chefs pushing their culinary creativity, newcomers coming to impress, and special activations sure to entertain and delight.

When asked about what attendees can expect at the festival this year, Festival Co-Founder and Foundation Board Chair Russell Kirkpatrick said, "We're proud to bring North Texas eaters top and emerging talent over four incredible days through six signature events in 2022. We've got some new, exciting interactive activations designed to bring the kitchen closer to our culinary community than ever before! We can't wait for food and wine lovers to join us on this culinary adventure."
Below is an outline of participant chef talent by each event; more information and details about 2022 beverage participants can be found at www.fortworthfoodandwinefestival.com.
**Participating Chefs at Pitt Stop Activation Station.
For more information about Fort Worth Food + Wine Foundation and the 2022 Festival, please email Holland Sanders at Holland@hollandcollective.co.
Special Collaborative Dinner: Houston to Ho Nai — Thursday, March 31, 6:30 pm – 8:30 pm | BRIK Venue

Chef Chris Shepherd
Chef Tuan Pham
Tacos + Tequila — Thursday, March 31, 7 pm – 10 pm | Heart of the Ranch at Clearfork
Mesero
Del Norte Tacos
Taco Heads
Mi Dia From Scratch
Magdelena's
Maria's Mexican Kitchen
Drakes Yoke Wood & Wine
Paco's Mexican Cuisine
Guapo Taco
Mariachi's Dine-In
FunkyTown Donuts
Meso Maya
Los Vaqueros Stockyards
Zavala's BBQ**
Dayne's Craft Barbeque**
The Main Event — Friday, April 1, 5:30 pm – 9 pm | Heart of the Ranch at Clearfork
Bonnell's Fine Texas Cuisine
Ellerbe Fine Foods
The Fitzgerald
Shinjuku Station
Trident Restaurant Group
MICHAELSCUISINE Restaurant & Bar
97 West Kitchen and Bar
Reata Restaurant
Local Foods Kitchen
Eddie V's Prime Seafood
B&B Butchers & Restaurant
Luckybee Kitchen
Malai Kitchen
Sweet Lucy's Pies
TINIE'S Mexican Cuisine
il Modo
Loft22 Cakes
Carpenter's Cafe & Catering
La Onda
Meat Church**
Nite Bites — Friday, April 1, 8:30 pm – 11 pm |Whiskey Ranch
Branch & Bird
ByWasonga
Hao & Dixya
F1 Smokehouse
Stir Crazy Baked Goods
Gold Ribbon Confections
Sweetie's Cheesecakes
Dusty Biscuit Beignets
The Bearded Lady
JOY Macarons
Culinary Corral — Saturday, April 2, 11 am – 2 pm |Heart of the Ranch at Clearfork
Lettuce Cook
Courtside Kitchen
Black Cat Pizza
The Table
Funky Picnic Brewery & Cafe
Grounds and Gold
Waters
The Culinary School of Fort Worth
Pearl Snap Kolaches
Bodega South Main
Savor Culinary Services
Boopa's Bagel Deli
HG SPLY CO
Mac's on Main
BREWED
Cane Rosso
Winewood Grill
Panther City BBQ**
Hurtado Barbecue**
Burgers, Brews + Blues — Saturday, April 2, 5 pm – 9 pm |Heart of the Ranch at Clearfork
Easy Slider
Tommy's Burgers + Brews
Cast Iron
Fred's Texas Cafe
Big Kat Burgers
The Bearded Lady
JD's Hamburgers
Tributary Café
Kincaid's
MELT Ice Creams
Ring of Fire — Sunday April 3, 1 pm – 4 pm |Heart of the Ranch at Clearfork
Smokestack 1948
Flores Tortillas
The Original Black's Barbecue
Cousins BBQ
Dayne's Craft Barbecue
Guess Family Barbecue
Magdelena's
Brix Barbecue
Heim BBQ
Bonnell's Fine Texas Cuisine
Panther City BBQ
Firefly Grilling Co
Zavala's Barbecue
Hurtado Barbecue
Smoke-A-Holics BBQ
Toro Toro Pan Latin Steakhouse
Trevino's Craft Smokehouse
Rosewood Ranches Texas Raised Wagyu Beef